Twist – Product Gallery Slider for Woocommerce – abb4aaee-978a-473e-a0d1-3b76993cd758 – 28 Apr 2017 REGULAR LICENSE
I have just bought the above plugin, and attempted to install it, but have received this error – 'The package could not be installed. No valid plugins were found.
Plugin install failed.'
Any help appreciated.
Many thanks
1 Answers
Hello,
Please follow this Intruduction below:
One of the reasons you may receive this error is if you have uploaded the incorrect file. You have 2 options for downloading your Plugin.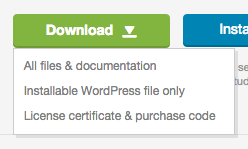 Installable WordPress file only.
(below)
.
All files and documentation (full zip folder). You will need to extract and locate the installable WordPress file.
(below)

Please make sure you are uploading only the installable Plugin which is called NameOf Plugin.zip. If you upload ALL these files you will receive an error.
Upload the Installable WordPress file admin area
Log in to your WordPress admin area.
Browse to Appearance > Plugins.
Click on 'Add New'.
Click 'Upload'.
Browse and select the Plugin zip file to 'Upload'.
Creadits : https://help.market.envato.com/hc/en-us/articles/202821510?_ga=1.212001619.658799834.1489263281
Please login or Register to submit your answer